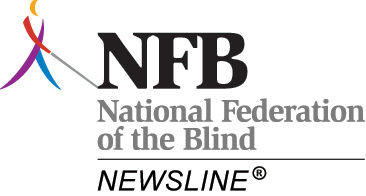 Welcome to
NFB-NEWSLINE®
Online!

With the new NFB-NEWSLINE® Online Publication Search, you can search through all NFB-NEWSLINE® content for a particular term or phrase. With this exciting new feature you can search through our publications for news stories that are of interest and importance to you. To use this feature, first select the link for "Create New Search" and then on the next page enter your desired search text in the user-entry field. You can also choose to narrow your search by modifying the type of issue and content that is used for your search. Once you've finished creating and saving your custom search, you can from there request an e-mail of your search results, create new searches, or modify or delete the searches you've created previously. If you'd like more detailed information on using the Publication Search, visit Publication Search Details.



Search Description

E-Mail

Edit

Delete

Create New Search
Return to NFB-NEWSLINE® Online Home.
Return to Main Menu
Log Out
NFB-NEWSLINE®: On the Phone, On the Web, and On the Go!
© All Rights Reserved - Copyright NFB